Are you looking to reach out to your target market with content that engages them? Lead generation from cold lists may seem the easy way out. However, most users find them intrusive, irrelevant and outright annoying. In fact, according to a study by the Keller Research Center, only 1% of cold calls convert to an appointment (Forester Research). You don't want to be that marketer that spams or annoys the customers, do you?
So consider sending them regular email newsletters instead and share information that is valued and sought by your target market. Email newsletters will help you turn strangers into customers.
E-newsletters are periodic mails that contain a collection of content items of use to readers such as industry news, trends, tips, etc. Your audience can scroll through and read those items which interest them the most. The intention of email newsletters is not to directly promote products or services, but to engage the customer by providing them personal and up-to-date content relevant to them. When done right, e-newsletters will help you build a unique and lasting relationship with your target audience.
Email Still Rules the Roost
You may wonder if in the era of LinkedIn, Facebook, Twitter and digital advertising, does email count anymore. Yes, email continues to dominate the space by being one of the most cost-effective and efficient channels for reaching target audiences and converting prospects.
• Email is touted to be the third most influential source of information for B2B audiences after colleague/peer recommendation and industry thought leaders. (WordStream)
• 76% marketers see active growth in their number of email newsletter subscribers. (Ascend2)
Email Newsletters compared to the One-Off Emails
Many businesses vouch for the effectiveness of email newsletters. Here are the top benefits of sending email newsletters:
They remind your customers about you
Your interaction with your customer should not be a one-time affair, that doesn't extend beyond the time they bought a product or service from you. Your audience has already opted to receive emails from you, so all you have to do is provide them with information that would interest them! By sending regular newsletters with topical content, you're staying relevant in your customer's mind.
Increased interaction means increased chances of them transacting with you again. Studies have shown that a nurtured lead increases sales by 20% more than a cold lead. This should tell you the importance of continued engagement with your customers.
They help build relationships and loyalty
When it comes to email newsletters, it's important to understand that the end goal here is establishing a meaningful and lasting relationship with customers. You've got your foot in the door the moment they sign up, it is now a wonderful opportunity to provide them content that has value in order to get them to look forward to your emails. Deliver relevant, usable and trustworthy content.
Enhance your company's reputation, build trust and relationships
If people trust you, they will buy from you. But how do you win their trust? By providing them rich, relevant content in the form of email newsletters. For instance, a fitness training institute can share newsletters that highlight a recent fitness event or a health study on the benefits of exercise along with some healthy recipes for weight loss.

Similarly, an IT company can send information about trends in the industry relevant to readers, uses of their software, along with some real life examples, and so on. The bottom line is that you need to put your customers' business interests in the top and center when creating content for email newsletters.
Cost-Effective Communication Channel
One of the biggest advantages of an e-newsletter is cost. The e-newsletter requires creating great content, an email template and mailing out. Hire a commercial email newsletter service provider that offers cost-effective templates and mailing services that allow you to customize the look of your e-newsletter and track your results.
What Should Your E-newsletter Include
Every customer we know, without exception, prefers content pieces that inform, educate and entertain while being simple, short and easy to understand.
You could plan your newsletter content in two ways. Focus on a single topic that is easy to digest. This would mean covering that topic in depth – your newsletter should be detailed enough to be the one reference point for customers on the matter that you address. When such a newsletter, detailing a topic of interest reaches a client, they are sure to spend time reading and appreciating it. Once you establish yourself as an authority on the subject they will look forward to receiving more such newsletters from you.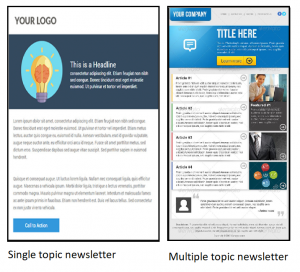 The other option is to have three to four topics of interest such as trends, tips, news. Avoid being self-promotional, instead focus on serving the interests of your customer and helping them address issues affecting their business.

Above all, maintaining consistency in your communication is the key. You shouldn't be overcrowding inboxes with three emails a week and then disappearing for a few months only to resurface again later to do the same. Strike a balance by giving a long enough pause between your previous mail that the next one will be welcome, and not taking so long that you'll have to reintroduce your brand.
Use Email Newsletters and turn Strangers into Customers
At the beginning of every interaction with potential customers, it's important to remember that your job is to cater to the interests of your prospects. They will easily be put off if they receive content that isn't directly relevant to them.
Understand their requirements and be the person providing them. Speak the language they connect with and talk about the things that will interest them. This way you will nurture a lasting relationship with your audience, creating loyalty towards your brand. For these reasons, e-newsletter is a sure fire method to generate consistent leads and achieve conversions.
So what are you waiting for? Increase your interaction with clients and build a great relationship with them! Sign them up and send regular newsletters to suit your target audience's need.
If you like this blog and think it could be useful to others, please share it!